Water Color Realism: Courtney Wheeler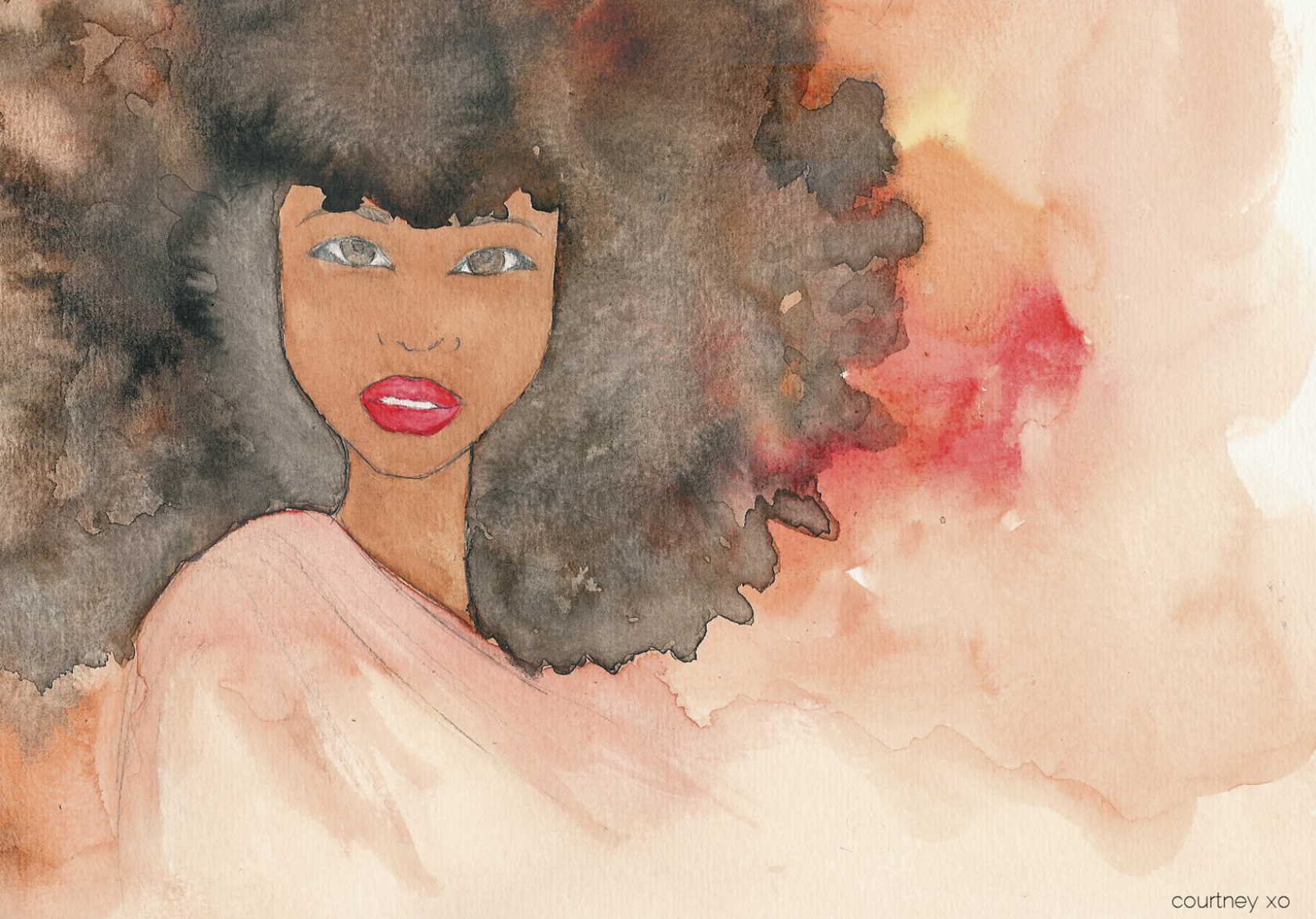 Courtney Wheeler is one woman who is always full of energy creative energy. Part wardrobe stylist and part illustrator, her work is focused on black beauty. It is no surprise that her artwork is inspired by fashion croquettes as she was a fashion design student during her undergrad time at Syracuse University. Get to know Courtney Wheeler and her world of watercolor realism.
What inspires the women that you watercolor?
Hair! Women who are comfortable with themselves. A little bit of fashion and definitely comics, pinups, and a little street art. I was obsessed with Bruce Timm and Fafi when I was younger so that def plays a part. I'm such a magazine and tumblr addict so a lot of inspiration comes from the women and images I come across there. Instagram is another good one, I'll be going through my timeline and go "oh hey she has cool vibes, let me do a watercolor"
There's so many forms of paint/illustration. Why watercolor?
The mistakes you can make! Seriously it's such a great medium if you just want to let go and not get caught up in being perfect. There's tons of happy accidents--or ones you have to pretend are, when you use watercolor. It also does exactly what it wants once you add water which is exactly what happens to most women and their hair.
What's your goal with these women that you draw?
To make people happy. To make myself happy. Which is hard because everyday I feel like I learn something new about painting or how I want to paint everyday. And I hope the result makes people happy. I get to do a lot of wedding and bridesmaid commissions and that's a wonderful feeling because people are sharing their important day with me. I want to capture a moment or attitude that you want to hang on your wall or use as a screen saver (the adult versions of lockers and notebook covers!)
Watercolor tattoos are really in now? How do you feel about them?
I've seen a couple of tattoos that look like watercolors and I think they look incredible and beautiful. I would imagine that it's harder to get the effect with a needle and skin than with paper and brush so bravo to those tattoo artists out there!
To see more of her prints visit: CourtneyXo.com