[Q&A] When Life Makes You Nearsighted, Make Some Prints!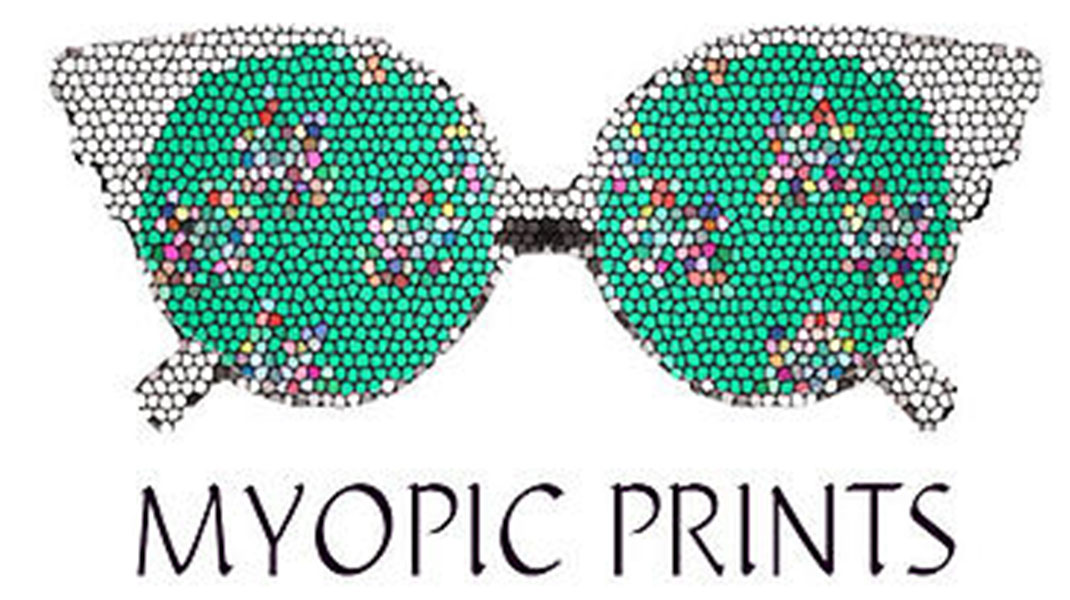 When I first saw one of Stacey's prints I was instantly in love. However, I soon found out that Stacey was the Carmen Sandiego of the internet. Up until a few weeks ago the myopic artist was nowhere to be found on social media. She lives in a FOMO (fear of missing out) free world and let me tell you it is beautiful. Born and raised in Brooklyn, N.Y Stacey Peart is a textile designer inspired by the everyday beauty of life and is naturally a source of positivity. You see, Stacey is nearsighted. Being nearsighted means that she is unable to see from far, however rather than harping on the things that are out of reach Stacey decided to take a closer look. She saw her myopic view of the world as a gift and it shows in the intricate details of her designs. Her detailed view of the world is so definite that it is almost spiritual. In her words, this attention to detail has allowed her to see and understand patterns and the role patterns play in the aesthetic of the universe. It's no wonder we decided to have a chat with Stacey! Not only are her textiles beautiful, but behind the quiet exterior there is a world of wisdom.
What do you consider to be a defining moment in your life?
A defining moment in my life has been raising my daughter because she's the best teacher I've ever had. She's taught me patience, fearlessness, and how to love unconditionally.
Why art?
My mother and 4 brothers are artists, so it was kind of inevitable for it to be a part of my life.
What got you interested in design? Have you taken any art classes?
I used to be the office assistant at an Interior Design company and they had their own textile line (wallpaper and fabric) and I knew from then that one day I wanted to do the same. I took like one painting class, and a couple ceramic classes in school but they weren't that interesting. I did take a sewing class for a few years in Brooklyn Heights which was cool. It taught me a lot about fabric.
Do you have a favorite artists? If yes, what draws you to that persons work? When was the moment you realized that this is what you wanted to dedicate your time to?
My favorite textile designers are Marimekko and Liberty of London. Their patterns, use of color and quality of products is what draws me to them. They are the crème de la crème to me. The moment I knew that this was what I wanted to dedicate my time to was when I finished my first pattern and the overwhelming joy that came over me after seeing it.
Why this art medium?
Textiles are one of the most versatile mediums. Once I learned that fabric could be used as wallpaper, I was sold.
What is your life motto?
If something isn't aiding in your evolution let it go.
What is one interesting thing not a lot of people would know about you from first meeting?
I'm a really huge hip hop fan.
I see that you are not on social media much. Is this a conscious choice?
I guess it's a conscious choice. It's sort of its own world and so easy to get lost in so I try to distance myself from it a bit.
What do you love about the art world?
What I love though about the art world is the constant evolution of ideas.
What inspires you?
The ability that everything has to be beautiful.
What inspires your art?
Nature is an endless source of inspiration.
If you could change one thing in the world, what would it be?
I would want people to know their true potential and embrace themselves. The world would be a better place if people did.
When are you the most peaceful?
When I'm working on my designs. It's the best form of mediation.
What's your favorite color?
Parrot Green.
To see more of Peart's work you can check her out at myopicprints.com. Follow her on Instagram @STACEYPEARTLY Stacey is also one of the featured artist in The Illest:Illustration Art Show happening this Thursday in Queens NY. It will be a night of performances and amazing illustrations. You might even get to see some of her latest designs in jewelry.