Behind the Beauty & Brains of Rising Photographer @Forever_Evon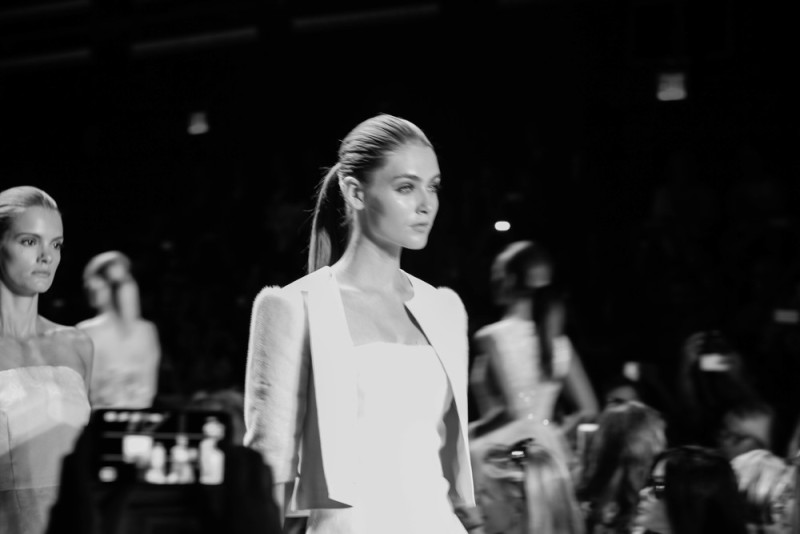 Myesha Gardner | Photographer

Myesha Gardner is a student at Parsons the New School of Design in New York City. Her education at the Cleveland School of the Arts and her work as a fashion photographer fueled the fire for her visual design career. She's worked across the board; from collaborating with fashion magazines to snapping designs during shows at New York Fashion Week. Myesha balances business and education while remaining confident, collected, and always in style. Her amazing work ethic and her determination to succeed sets her apart from the rest. She's the complete package deal and only 20 years young - she's surely destined for success.
What inspired you to begin your photography career?
Movement! I have always been fascinated with ballet dancers--the way that they move and the fabrics of their clothing. I love the idea that photography allows you capture a moment in time; it's like putting a pause on moments that are a part of your history.
You work between Cleveland and New York City. How do you balance working between the two while going to the number one art school in the nation?
By moving to New York City to attend the college of my dreams with such a major reputation, I knew that I was in for a challenge. I am a busy body who likes to stay moving in order to remain occupied. I have dozens of sticky notes around me, in my bedroom, on my laptop keyboard, on my phone, with reminders. These reminders include things that I need to for the day or week, short-term and long-term goals, and quotes that inspire me to get up and get out. I like to keep a tunnel vision of positive words around me to remind why I am here as a constant motivational tool. There are times that I do become overwhelmed with my school workload and working in general. At those times I sit down, look at the bigger picture and really begin to prioritize. My priority is to always create and write new ideas no matter how busy it gets, keep creating!
What do you see in the near future for the youth culture of your hometown?
The future that I see for the youth culture in my hometown is for them to be fearless and aspire to reach any and every goal that they set for themselves. I want for people to be confident and to know that their options to explore are limitless. If you put the right amount of focus and energy into something that you are passionate about, you will succeed. Remaining dedicated and persistent toward something that you believe in, that is when you are truly winning. Where focus goes, energy flows.
How do you define your artwork? What is the most important lesson being a young millennial woman in the arts has taught you?
I strive to capture different perspectives through natural portraiture, exposure to light, and perception of humanity. I carefully chose subjects for my portfolio that exemplify movement, curvature, and beauty through the art of dance, beauty, and fashion. The most important lesson that being a woman in arts has taught me is that there is no limit to what you can create. There are no ideas that you cannot go through with as an artist. You have the freedom to express whatever you want through whatever medium you choose. I am honored to have the privilege to freely express my idea of beauty through my art and design work. I set the standards for what I believe is alluring and my viewers can gain a sense of it as well. Photography is a very powerful and evoking medium that can change people's perspective from many aspects.
What's next for your career?
The next step in my career is to travel. It might seem more of a personal goal but being in school is like a job and it is always great to show that you are willing to branch out and try new things. My traveling experience will affect my career, educational, and life goals. I am going to Paris for a semester next year and I plan to make as many connections as I can internationally. I try not to adjust too much to what is directly around me when I know there is so much more out there to explore. My creative process is often inspired by my surroundings and I am anxious to see what inspiration will evolve while studying abroad. I am looking forward to discovering new opportunities in Paris, capturing annual fashion events, and interning for studios that will contribute to the diversity of my portfolio.
What is your advice to those following their dreams?
"There is nothing better for people than to be happy and to do good while they live. That each of them may eat, and drink, and find satisfaction in all their toil...this is the gift of God." - Ecclesiastics 3:12 - 13
Choose courage over fear! Make moves! You are put on this earth one time so it is important that you leave your mark. Think outside of the box that you think is shutting you in from the rest of world and figure out ways to go beyond that. Don't limit yourself and don't be afraid of the word "no". Do not downsize your dreams or settle for anything less than what you believe in. Someone telling you no may actually work in your favor for an even better opportunity to be revealed and that is more suitable for you. Think of your most meaningful goal and set it for yourself and plan it! Even if you cannot specify exactly where you want to be and when, still write it down and watch shit get real. Surround yourself with your goals and watch as they develop much more vividly. Know your purpose and take action daily in the direction of your vision.
In the process of it all, do not forget about yourself, self-love, personal health, and general well-being. Embrace every physical trait, inner, and outer beauty, and anything defines your uniqueness. Go where you are celebrated and not tolerated. Embrace that shit and make these moves!
For more of Myesha check out her online portfolio at myeshaevon.com