@TatiannaTarot's February Tarotscopes Revealed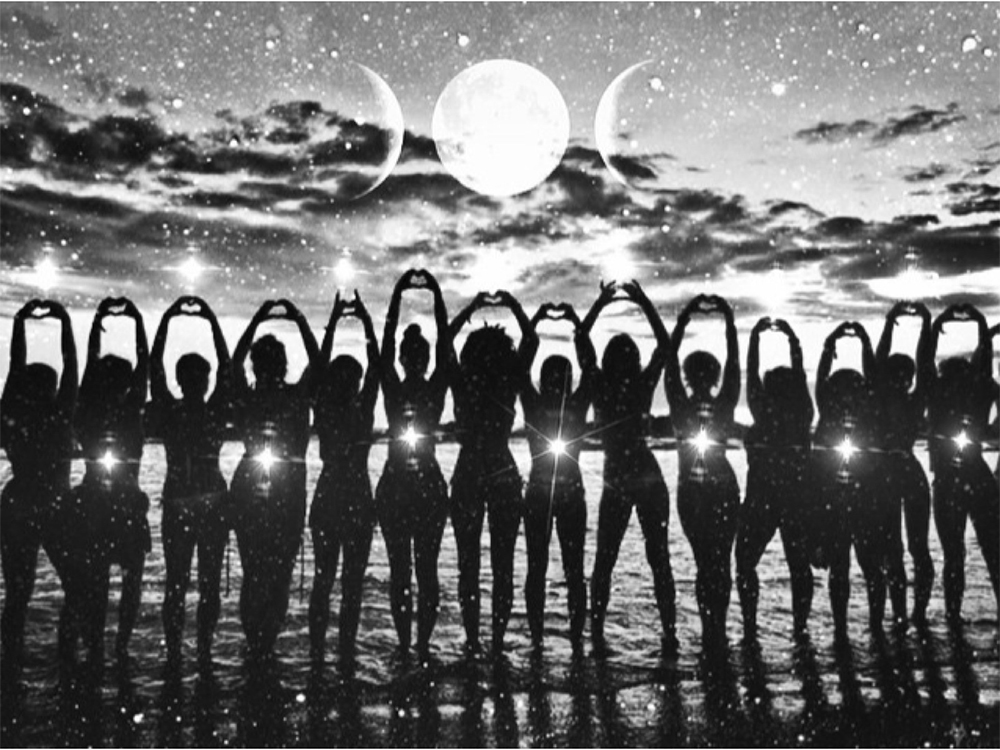 February's Theme
2 of Pentacles + Page of Cups + Ace of Pentacles
February kicks off with the need to regain some physical balance in our lives, be it on the financial plane or on the creative one, we may be eager to establish ourselves and make our mark by increasing our prosperity and truly focusing our energies on what we can build. This can bring up the inspiration to renovate our lives. A complete upgrade is in store here as we are directing ourselves boldly forward to grab what is rightfully ours. If you have been set on making a certain amount of income, setting new health + diet goals, traveling the world or creating your own business; February will provide you ripe opportunities for you to grow in these endeavors and to stay committed to that direction without excuses or doubts.
The 2 of Pentacles will throw curveballs at you; at this point, lighten up. The only constant is change and by resisting that you make it harder for peace and clarity to settle and marry in your heart. Particularly dealing with Earth based energies and the tangible realm, you may find it challenging to meet the demands of your emotional needs, other's expectations and the daily responsibilities of what life requires. This is not a time to freak out or belittle your organizational skills but the advice I would give sounds counter intuitive to the situation; do less and relax more. There is an ease that the universe is attempting to provide you, this can easily be accessed if you relied all faith in self and in source and humbly accept all circumstantial occurrences as what they are meant to be in that moment. You cannot control what is happening to you but this month will teach you that you will have to learn how to control your reactions in order to gain the most benefit. Your balance is not consistent, it will need to be recalibrated per moment. Have fun with this game because it's called life and you cannot avoid it, you can only play with it.
The Page of Cups is teaching us how to have fun again, how to reconnect with different shapes in our perimeter and to explore how that fits in with our world, if it does. How can we find new ways to connect with different perspectives? How can we grow out of our outdated models of thinking and doing and expanding into an area of love and exploration? The Page of Cups alerts us about love, compassion with self and others, sensitivity, romance,  and diving in deeper into our psyches about our personal love vibrations. Any limiting beliefs and conflicts in this area (love & creativity) may make itself known in your life so that you may liberate yourself or understand any personal trauma or judgment that you harbor and repeat from the past. What you resists persists and February is urging us to learn from our failures and welcome new love into our lives so that we can bask in beauty. The universe isn't punishing you, it may be the case that you're either not learning or listening; either or, you are still resisting in some way. This can be a pivotal time for self-exploration, a change in personal dynamics with friendships, business partners, lovers, family and how you relate to yourself. You may feel daring and charming enough to get what you want; an exciting time for all, this month is the shortest but packs a big punch to swallow. The Ace of Pentacles is a blessing on all levels, more stability in your life is guaranteed, a more mature handle over your creations, finances and leadership is to be expected this month. You are a leader, act like it and start creating your wildest dreams. In many ways you can consider this as the official start of the new year. January was a recovery zone, February is your golden opportunity to put yourself out there. Expect financial improvement, a more centered & stable sense of self, the implementation of future projects being created now and unexpected rewards as a result of your positive projections.
Aquarius
Queen of Wands + Ace of Pentacles + 2 of Swords
There are serious matters to attend to this month as the impact February has on the rest of the year is tremendous. One would consider Aquarius' to be creatively calculated, eclectic and somewhat eccentric, the Queen of Wands highlights your best features, enabling you to work more intensely & to trust on what you can offer as a visionary. Perhaps you have been influenced by others around you with a similar vibe and approach to their work, but your influence will kick up a notch and you are surrounded by many encouraging souls that are ready for what you have to deliver. Faith in self is stronger than ever, most likely due to sacred time spent with self and a close analysis of the energy you keep around you. Make the necessary plans needed to get you where you'd like to be by the end of the year. This is a month to dream big and perhaps take impulsive risks one wouldn't normally consider. A leader in many ways, there is an emphasis on tending to your own needs & doing what you can to make your dreams come true in all aspects of your life. If there are resources around you that can get you there faster, utilize them. You have a phenomenal network of valuable people that are all on the rise; don't sell yourself short, even if it seems slightly egoic. Focus on yourself and the plans that the universe has in store for you. Everything has been paved for you so don't be so humble that you can't even take your piece of the pie. Finances have improved but there are still minor details to attend to before making bigger moves up ahead, this may mean that you will have to take time to map out life. The 2 of Swords is a habit you want to nip at the butt, asap; this regards being indecisive, doubtful and torn between choices or decisions that have an emotional impact on you. It's best to clear your head and settle things on paper so you can best assess what your ideal choice is. February is a month to act on, financially, you may discover that the Ace of Pentacles is dropping unexpected income on your lap. A new possibility to make additional income, a collaboration with a dynamic partnership or the release of a new project that has been stirring in you is expected this time. You have all the power to claim whatever it is you can create and envision; the most valuable advice you can receive at this venture is to validate your own beliefs and make choices based on your heart's judgement.
Pisces
The Moon + King of Swords + The Hanged Man
Your intuition and psychic abilities are heightened this month, it is a result of your ability to make peace with what is and to reside in the guidance of your own senses. This is a month that will highlight emotional matters that you have yet to tend to fully. The Moon is making the waters rise and will rock our own sensibilities unless we are conscious of our own vibrations and what causes them to shift. A close eye is to be focused on what you need to remain centered, grounded and to keep this peace, therefore all elements that are not in accordance of this, will make themselves known. You don't need to react, your consciousness on the matters will serve as good ammunition against future turbulence. The Moon may bring about an erratic sense of behavior in you, where you are in a constant flux either physically or emotionally. It's best to take frequent naps or create a list of activities, thoughts or things you desire that can help you get back on track to your natural self. Trust your judgement. The King of Swords can represent your subconscious need to make demands on self, perhaps pressuring to change in ways that you have difficulty catching up with. The Hanged Man is hesitation, lethargy and procrastination; you know you need to do it, but you stall. There is nothing wrong with this, as we are all perfectly imperfect, but minimize the stress by choosing smaller tasks and goals to accomplish; don't bite off more than you can chew. The King of Swords will have you analyzing your life more intensely this month; you are the voice of wisdom and can see through illusion. This is a curious influence that may have you comparing and contrasting why things are the way they are at this stage in your life, but this gift is to motivate you to change what you can control not get upset over what you cannot. You may be taking your life more seriously this month; getting into various disciplinary routines just so that you don't settle for a mediocre life. In the process of elevating yourself, be mindful of the power of your words and how sharper they are this month. The King of Swords moves with honesty, integrity and a laser vision for himself; his words carry a powerful punch but always tell the truth. Expression is important this month on all levels; you will find your voice and personal touch can capture the attention of many. Be selective & mindful in how you choose to execute this gift of yours in February.
Aries
Page of Cups + Queen of Cups + 6 of Swords
You are the deliverer of amazing advice, creative ideas and you emit a raw vulnerability that you're ready to show the world. Unapologetically you, the Page of Cups may represent accessing a deeper more intimate side of yourself that you've never discovered before. As a result, many people gravitate to this authenticity either on a romantic level or on establishing a meaningful connection. Feminine energy is strong with you this month. You exude a profound amount of sensitivity and sensuality that enables you to be super in tune with the world around you. This influence allows you to channel needed information instantaneously, express your longings and emotions from a grounded yet honest frame point and find comfort in strangers. You are able to touch many soft points, thus moving them and motivating them to be more of what they are capable of. It may be that your influence is subtle but deeply felt. The Queen of Cups has you feeling better about yourself but still calmly reserved as you hold your temper and stance. From an analytical standpoint, you may take pleasure in sitting on your throne and observing the emotional explosions and movements from others, so that you don't get in their way. You can learn a great deal on how to project more love and sensitivity in your world and you're not afraid to let others know that this is your truth. On a romantic scale, things may be getting deeper with your partner; the intimacy level can be a mirror portal into what you've always refused to see but consider yourself more emotionally capable of handling your own truth and those of others. The 6 of Swords speaks of needing to remove your psyche from a potentially harmful or damaging situation that you've endured for some time. This may manifest as a realization of a behavior or energy you've perpetuated for some time but it is clear that you must move on now. Mustering up the remainder of your strength to make this decision is a testament to the amount of love you have for self. If you know you must do it, then don't hold yourself back. Overall, don't be surprised that your love vibration is attracting all types of interesting energy. Know your power but most importantly, use it for your best benefit, don't just squander it on the unnecessary or undeserving.
Taurus
 6 of Swords + 2 of Cups + Page of Swords
The 6 of Swords will present many scenarios in your life that reach a boiling point; your job is to distinguish whether you are to keep your peace and let go of what does not support that, or surrender to what is, in hopes of finding a harmonious solution. I sense that this may be in various areas of your life, not just one, but this may be realizations that you've been aware of for sometime but have yet to take action on it. Mentally, you feel stuck or unclear of where to go next; it may be the case that you are attempting to see far into the future regarding where you'll end up but the point is to focus on saving yourself now. There will be opportunities to transcend past hurts, toxic energies and self-debilitating behaviors by acknowledging that you must administer more self love and respect. You may not be the only one experiencing this, it could be the case that your conscious release and cleanse has you feeling more bonded with someone sacred to you or that you are on a better position to relate to others as a result of your own experiences. Your struggles will result in more harmony, connection and resonance with the world around you and allows you to strengthen your intimacy with self. A person may enter your life with extreme healing qualities, mirroring aspects of yourself that you have lost or forgotten along the way as shown by the 2 of Cups. This relationship/partnership may manifest as a soul mate; a spirit who has been brought to your attention to help you get more in tune with your true essence, an exercise we can all take part in for our personal enlightenment. In observing your similarities and dissimilarities, you take a tremendous amount of knowledge to benefit from; you're not interested in being mediocre so you take what you can get humbly as you rise in your personal latter. The Page of Swords is strategic communication; a rush to get things done and accomplished on time and laser like attention. These are qualities that you will be embodying but can also represent the intensity of your dynamic with this mysterious individual that is subtly shaping your reality. Things may get heated up if it transitions into a romantic situation, but this is not guaranteed. If it is platonic, then there is much work to be done and the energies around you will be accelerated with phenomenal plans, ideas and visions to orchestrate. There is a need to be completely honest with your interpretations, feelings and experiences. We are all individually experiencing a separate world, not everyone will understand your personal mechanisms or why you are designed in your fashion; your job is to have clear and open communication which does not breed misunderstanding or conflict. As a result, you grow increasingly comfortable with vocalizing your needs and rationalizing your approach with other relationships in your life. Action is to be taken now, so don't sleep on your potential.
Gemini
Queen of Swords + Page of Pentacles + 3 of Wands
There is a phenomenal amount of wisdom, education and insight you can gain from elder women in your life. The Queen of Swords is the consultation and care of a stern, aged and more direct influence, who is respected for her truth, ability to see through illusion and strong presence she commands. Her force may inspire you to get off of your lazy ass and do the impossible; she holds no prisoners and feels sorry for no one. Ultimately, her purpose is to direct you toward creating your own life and taking full responsibility with it. She teaches you the importance of carrying on a tradition or perhaps creating your own, and may inspire you to research your ancestry and ethnic background for a deeper connection and insight on your history. Although she may be harsh in pressuring you to go far, it is because she realizes your potential, perhaps more so than you, and won't allow you to squander it away. The Page of Pentacles represents a deep desire you have in starting a new direction in your life; it seems like the Queen of Swords has done her job successfully in directing you to be accountable of your gifts, talents & visions. This is a start of a new identity, one that is more intuitive, grounded, secure and eager to lay out the foundation for the next 5-10 years of your life. The 3 of Wands is your ability to foreshadow events and outcomes in your life and that of others. You want to utilize this skill as it is a psychic ability that you tend to discredit. The skill to read and interpret energy from afar can be used in the present moment. In terms of you organizing & structuring your life to either meet those demands in the future, or shape it so that it looks better than you've envisioned; either or, the power is in your hands. The Page of Pentacles can hint at new avenues opening themselves up to you; new friends, resources, work, a change of environment, but over all, a readiness to expand your limits and grab what is yours. With a bit of structure and discipline, you can shift your whole life for the better but it is guaranteed that this month is to be focused on your personal growth and daily exercises that will have you in top condition before you know it.
-
Cancer
 Temperance + 8 of Swords + 10 of Cups
Have some patience while the universe orchestrates the miracles that you are putting out there. This month is a lesson in taking your time and paying attention to all the minor details that make a big difference in the direction of your life and your personal happiness. Trust that there is action going on in all the stillness, and that you will be needing this time to prepare for your own direction. It's a great month to rest and recuperate from all the action you've been experiencing but also, Temperance can represent needing to have patience with your own emotional development and mental clarity. The 8 of Swords shows mental isolation; the need to separate yourself from others but this can be a result of exhaustion, boredom and excessive pressure. Working consistently or attempting to make something work when it clearly doesn't, will only stunt your growth and harm your psyche. Things should be flowing with you when you are in alignment; if it doesn't fit leave it behind, don't exert too much energy on something that is clearly resisting you. The 8 of Swords may appear when we are in our own way; check your belief systems a bit more deeply. What do you think about perpetually that may not be supporting you? You may be refusing to see that there are multiple possibilities and outcomes that can stem from where you believe you are stuck. Temperance is attempting to teach you that higher spirit needs to work through you when you allow it to. By relaxing and getting out of your own way, you allow the divine to show its full force and potency in your life. The 10 of Cups guarantees that you are indeed on the right path, even if you stumble from time to time. There are valuable lessons surfacing for you to learn from, if you resist them, the impact will perpetuate and perhaps grow to catch your attention in a way that you won't desire. Ultimately, this card is about emotional fulfillment, happiness, joy, excitement and unconditional love. You will have that moment to step back and bask in your creations with gratitude and awe. There is much to absorb from those whom have made "success" before you, even if you don't know them personally. The 10 of Cups brings enlightenment and understanding in your world through the efforts & struggles of others. Absorb what you can, have a curious and open mind to learn what you must in order to sustain this happy ending you're heading towards.
Leo
8 of Cups + 10 of Wands + King of Pentacles
The 8 of Cups is a firm decision to find your independence and follow that, it may be a realization that your mind and heart have been clashing and this tension is too much to bear. As a result, you are deciding to move forward in pursuit of your peace and happiness, although this departure weighs on your heavily and may still be a source of apprehension in your heart; you know its the right move to do. Whatever that has led to this decision has also provided a huge burden in your life, as seen by the 10 of Wands. This is making things harder for you than they should be but one should consider how they are contributing to the equation as well. It takes two elements to manifest in the way that it does, removing emotion from the situation and seeing it for what it truly is, can help tremendously in lightening your load. You won't necessarily have to abandon anything, if you find a way to implement more peace and harmony in the circumstance even if that means you will partially have to compromise. The 10 of Wands can also represent ambition applied in the wrong way. If you pile too many sticks on you and still attempt to move forward, you will inevitably get burned out or drop responsibilities along the way, which makes it seem as if you are careless and irresponsible. This month will require that you find stillness, such as the King of Pentacles, and create a new plan for yourself that is functional and manageable to execute. You may have to begin with a mini to-do list and work yourself up, or find others whom can handle the work load for you as you apply your focus on other necessities. What is important is that you eliminate toxic energy, burdening energy and anything inside of yourself that persists in a negative basis. An extra amount of motivation is needed in order to avoid procrastination or hasty action; you will be inclined to make quick move and decisions based on how you're feeling in the present moment but it's wise to think about the next steps you'll take, not to be impulsive and irrational. The King of Pentacles is the result of your hardships and valuable work; you have the potential to sustain yourself financially, mentally and physically. You may have to look for external resources that can help guide you in the best direction and provide sound wisdom regarding your goals. It is also a reminder that patience and stillness are more of your allies than latching on to any opportunity that comes your way. Not everything is in your best benefit, you can't please all and you cannot do it all at once. Pick and choose your battles wisely.
Virgo
5 of Cups + The Sun + The Wheel of Fortune
You have definitely tried your fair share in making things right and balanced again. The 5 of Cups shows sorrow and regret over past hurt, loss and decisions that transpired in which you have no control over. You cannot control your circumstances, you can only control your reactions to them, so before beginning a pity-party for self, find clarity in what is transpiring. This can represent a perpetual habit to think about and thus reside in the past, a time that no longer exists and will hold you back from benefitting from opportunities and blessings that await you now. If you pay close attention, there is a castle right next to you that you may not see because you are looking down on yourself this whole time. As Latinos would say: "Bájate de esa nube," release yourself from that cloud you stand on and find the gratitude and appreciation that surrounds you; it is there. Sorrow and happiness are two star-crossed lovers that always go hand in hand. Discipline and will power will enable you to make the right choice in thinking progressively and liberating you from unfavorable situations. The Sun reveals its power to clear away negative influences and in heightening your own influence in the world. You have something to say and prove, this is your time to do it. A force to reckoned with, you are the only one that can block your illumination and clarity. There are sharp realizations and insights to be gained from subconscious patterns and the behaviors of others that have much to say about what you have allowed to continue this whole time, and what you have picked up from an earlier age. You may feel excited that your consciousness is expanding in this sense and will be interested to dig in deeper on the patterns of other areas in your life. The Wheel of Fortune brings up the theme of Karma, which relates to what i've just mentioned. This time in your life may be creatively implusive and as you discover what patterns are meant to be broken and what serves you, you may be feeling like flipping things around and remodeling your self. A bit of chaotic time, this is a month of unexpected elements coming in and out of your life; a fluctuation of emotions that you can't fully rationalize or understand, blessings that are serving you when you least expect it but overall an adventurous time to be had. Your analytical ways cannot resist the need to investigate and to pry deeper into the meaning of things but know that everything isn't meant to be explained or understood, sometimes the mystery of life humbles us making us more malleable to the universe's will. Your best bet is to trust the flow your in and follow your impulses regardless of how crazy they seem.
Libra
Page of Wands + 6 of Wands + Judgement
Your calling(s) may be more clear to you this month, not as an individual purpose, but you will gain clarity on what you must tackle on now in preparation of your amazing future. The Page of Wands hits you with the travel bug, the desire to expand your influences, connections, networks and culture. You may be picking up and learning from those that are on the move, but you are ready to take on more than what you've been handling and make a new market for yourself. Be it physical travel or spiritual, the Page of Wands is eager to explore the soils out there and test out the waters to see what is best for him. This can encourage you to hand out with new influences, try new experiences and combine different flavors and elements to see what is more efficient and appropriate for you at this stage. This energy will require you to pick up your feet, get in alignment with self and put in more work than you've been having but it will be all worth it. For now, don't resist your responsibilities, know that these tasks will land you in the right destination. The 6 of Wands is victory, success, motivation, a raise in your self-esteem and how you truly see yourself out in this world. It does not seem as if you are doing this alone, you have a traveling companion(s) with you that share the same vision and dream; it is time to put all your brains together and to prepare to take over. In some way, you will acknowledge a mini-triumph this month of your efforts and dedication. You feel as if you came out on top and your pride has risen; it would not be far-fetched if you received some recognition, praise or positive energy for your stride. This is a month in which almost anything you do may be granting you positive attention, take advantage of this flow and continue to heed in the direction your spirit is telling you. The Judgement card is a smack of reality, the feeling of godliness and gratitude of self; you have a deeper more intimate connection with yourself that you are not willing to compromise. This can also represent spiritual awakenings and an inexplicable understanding of the Source within you. Some may consider this as the awakening of your unconditional love for self, but you will find it much more easy to follow your own flow, listen to your guides and to take a stand for yourself. You know that what you contain within is much bigger than any opposition you face; this may be the appropriate time to face them head on, if you are guided to do so. Sometimes the hardest choices we must make are the ones that will open the doors to our best future; you already know what you need to do, and supported by the fire element that surrounds you, ensures that you will get the job done.
Scorpio
The Hermit + 6 of Cups + 10 of Cups
The Hermit is a state that you are comfortable with; the need to rest and relax on your own and the desire to look at things from a deeper more insightful perspective. There are important questions to be answered, clarity to be gained on this month and a break from the frantic and constant pressures of the lifestyle you live. You must honor the calling to chill and seek refuge in your spiritual and meditative practices. Be it to receive answers that you need, or to distance yourself from harmful energies, the hermit does not spend time mingling with others; he wants to invest in himself and can trust his own internal clock to know when to appear and share energy with society again. There is no rush this month, and if you feel the need to do so, you should question your motives and purpose. The 6 of Cups is a reunion with a beloved spirit that brings you much resonance and joy into your life. This may even be a new encounter that feels instantaneously strong and connected. Thoughts of your childhood or nostalgic memories may appear to remind you of how much you have grown and transitioned into adulthood. You may long to revisit old loves and old ways of being but do so under the notion that this is positive and beneficial to you. There is nothing wrong in looking back on the past, as long as you can use this reflection for your own benefit and growth. Perhaps this is what the Hermit is calling you to do in your own solitude. A gift will be presented to you in which you will have to make several "adult-like" mature decisions in order for you to restructure your life. Although this gift is ultimately positive, it may come at a time of inconvenience for you, thus adding additional pressure and intensity into your life. Lighten up, and awaken your inner child. Children have natural reflexes in which they know what to do, how to do it and how to get things done, even if they must implement their imagination. In fact, imagination is an important skill for you to develop this month, as it can help you come to different conclusion and uplifting solutions that benefit the whole, not just you. You may be inclined to hide away from the world altogether but this is not a time to do so, solitude and distance is to be balanced with the need to get things accomplished and to face the reality of your truth. Don't use it as an escape mechanism for your own life; others depend on your leadership & psychic insight to guide them into the future. The 10 of Cups ensures that you will indeed make the right choice, restoring harmony, understanding and many fun times into the future. Some decisions regarding the future, weigh heavily on you now but overall, expect a fabulous outcome in which you will be extremely satisfied with.
Sagittarius
The Magician + The Emperor + The Queen of Pentacles
The Magician highlights the intensity of your will, your direction and strength this month. You may feel extremely rebellious or motivated by others around you that have been winning in their lives. Don't worry, you are not too far behind and in many ways you may believe that you have supernatural powers and abilities to get you on that platform. Overall, you are extremely influential, in speech, thought and action; you will find a way to make sure that you get what you desire and not in a megalomaniac way but on an approach that is logically sound and rationally balanced. What would you do if you knew you could not fail? This card brings on the possibilities of extreme adventures, new avenues of gaining income or making an impact on the lives of others through your own skills and talents. The Emperor can symbolize an older, masculine energy that is showing you how to be in control of your own life through his example. This may not even be a physical person but a new essence inside of you showing that you are more in control of the circumstances than you think and thus are a bigger influence than you can imagine. The wisdom or lessons that your own father or masculine caretaker have provided you can play a big role in your life this month. The Emperor asks you to execute you desires with responsibility and fairness to all;  you may not have to replicate what others have shown you in childhood, this could be an excellent time to heal childhood and family karma and to show your dominance over dormant energy patterns that no longer suit you. Coupled with the Queen of Pentacles, you are exhibiting extreme leadership skills and may be reflecting on your own maternal/feminine energy as well. This can be in terms of how well you allow things to flow in your life, how well you take care of yourself and others on all levels and how in tune with your creative spirit you truly are. There is a need to nurture your drive and to balance it with care, love and practicality. You may have the desire to overcome obstacles and to prove yourself but make sure you are doing this for you and not for anyone else. The Queen of Pentacles exhibits a down-to-earth vibe that is all about keeping the peace around her and not taking anything that serious except for your dreams. Stay connected to what brings you security, peace and purpose in your life. You may feel the need to take care of everything and everyone around you, which is noble; just remember to provide and care for yourself first.
Capricorn
 2 of Cups + 8 of Swords + 2 of Wands
If you are in any limiting relationships or cannot see where you can do further from here, it is a good time to reflect on your own liberation and what you must do in order to feel better about your situation. The 8 of Swords is showing your willingness to ignore the reality of the situation and how you may be in your own way mentally. It is not a time to allow others or past circumstances to influence you, this is a new page and a new opportunity to have your life going where you truly need it to be. The 2 of Cups indicates your willingness to find harmony and connection with elements around you and inside of yourself; you don't desire putting up resistance toward what is but at the same time, if the doors are not opening for you then you have to let them go. The 8 of Swords can hint that what you want is not too far behind but victimization and wanting to save others before you will not get you what you want. You may have to be more direct and expressive regarding your personal needs and expectations; if you must articulate them in a bullet list then so be it. The 2 of Cups shows that you will be finding a great match in a relationship that will feed your needs and support you in this new chapter of your life. The feeling is mutual and reciprocated; you won't have to guess their intentions or struggle to get emotional reciprocity from them, it's understood that you both feel & understand each other on a level that is fully mature. Consciously, you may be on the look out for those who are on your same level of understanding in the world. This is not you being cocky or selective but may be as a result of you being tired of looniness or your inner child is eager to find its spiritual playmates. Don't allow your own thoughts and beliefs to wear you out; be mindful of what drains you and what sustains you because you will need to clean house this month in preparation for the summer. The 2 of Wands shows much projection into the future, you may not know exactly where you are headed but you know what you want and you know that your passion mirrors you physical drive. All the elements that you need will manifest themselves as you stumble along your life in divine timing. Trust that you can take that step into the unknown and will be supported all the way by the grace of Source and your own savvy intellect.